The Hotel Merkur and its beer garden in Ramstein
Especially in summer, many people are drawn to the outside world. It doesn't matter whether you want to enjoy a delicious beer or if you are in the mood for one of our special delicacies from the kitchen: Our beer garden is the perfect place to relax and recharge your batteries.
However, our beer garden also proves to you that an original, simple flair and a high-quality equipment in the mix with tasty dishes do not exclude each other. In short: If you want to enjoy the unconventional way, the beergarden is perfect for. Feel the warming sunbeams on your skin as you enjoy a cool drink: Gastronomy has never been more unconventional!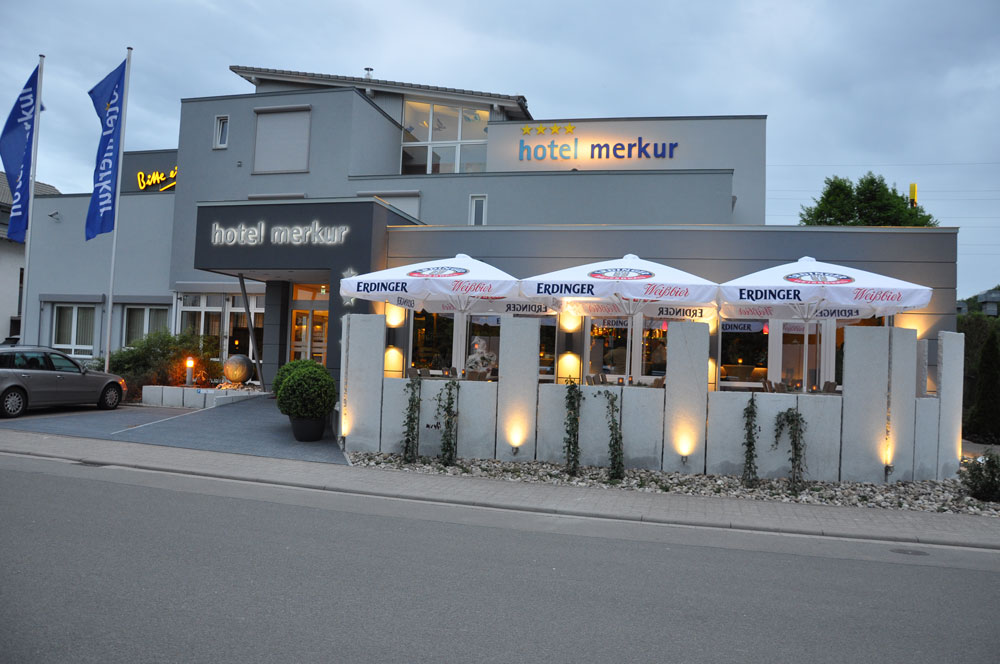 Food and drinks from our menu
Our rich menu, which you can of course also enjoy in our beer garden, is characterised by a high degree of variety. This can be seen in the special selection of dishes. Whether you are looking for regional specialities or international dishes: Here you will find it! With regard to the choice of drinks, our beer garden naturally leaves nothing to be desired. This gives you not only the opportunity to enjoy beer in a classical way, but also to taste our excellent wines. Our team will be happy to advise you on the wine best suited to your food.
Of course, we also have a large number of non-alcoholic beverages in our repertoire.
The beer garden as an ideal destination for excursions
You haven't booked a room with us, but still let yourself be attracted by the menu with all its delicacies? No problem! Of course, we will also be pleased to welcome you to our beer garden if you are only "passing through". Just take a seat at one of our tables and let us spoil you with the excellent services of our house!
Many regular guests use the visit in our restaurant or beer garden as an opportunity to either get to know our offer or use it again in a particularly spontaneous way.
Your celebrations in our beer garden
Are you planning a summer party? Perhaps you don't feel like eating indoors with your guests, but prefer a more traditional option? The ideal conditions for moving your birthday party (or any other festivity) to our Check In Bar beer garden.
Do not hesitate to contact us for individual requests, for example:
A specific beverage selection
table decoration
menu layouts in advance. Just like our restaurant inside, our beer garden has nothing to do with chance.
Therefore, it is of course also possible to inform us of any special requests with regard to the corresponding dishes. Whether vegetarian menus or dishes that do not contain certain ingredients: Together with you, we will prepare a meal that will inspire you and your guests!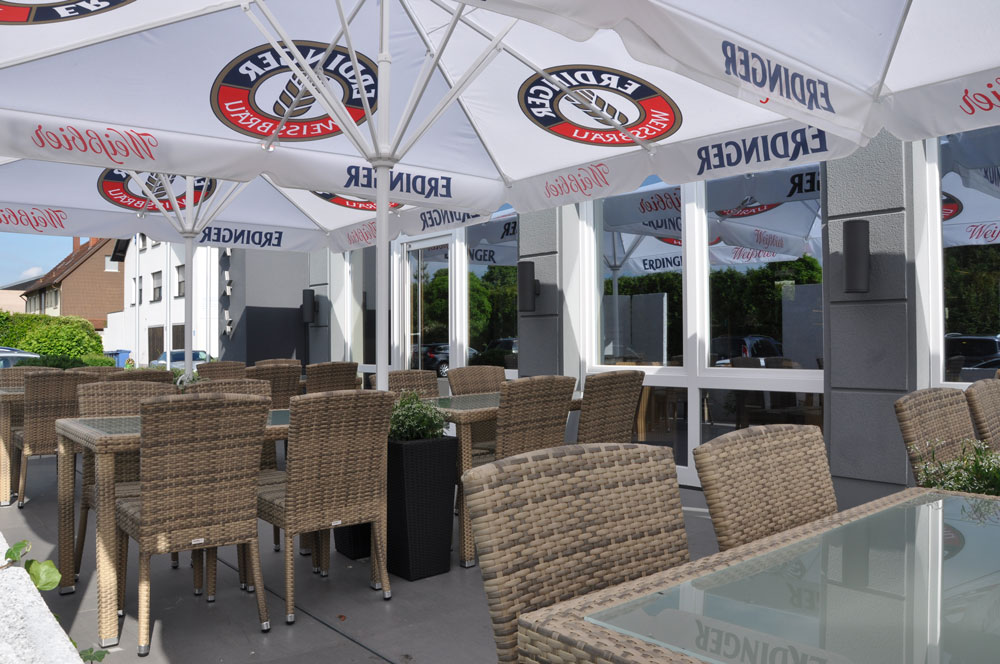 The alternative for bad weather
Anyone who has ever planned an open-air party in the summer knows that the question of whether "the weather really plays along this time" is also a central question. Of course, anyone who plans a party in the beer garden or would like to spend a cosy evening here alone can and rarely want to get involved in alternatives. However, if one or two rain clouds should still spoil your view of eating and drinking in the open air, you always have the possibility to change to either our restaurant or our stylish hotel bar. Of course we will also spoil you and your guests with the delicacies of our kitchen there.
If a short visit to the beer garden is to be turned into a whole weekend
Who doesn't know: The time in the beer garden often flies by. People laugh, drink and eat, and at some point they have to go home. However, if you don't want to end your day early, you can also book one of our single or double rooms (if available) to stay overnight. Enjoy the modern equipment, the comfortable size and comfort of our rooms and extend your excursion to a whole weekend! The next morning, of course, a rich breakfast with sausage and cheese creations and coffee awaits you.
The beer garden as part of your party
If you have decided to have a party in our restaurant or a seminar in our conference room, the time often comes – usually after you have eaten the main course – when the guests leave. Most people love to catch a little "fresh air" in between, smoke a cigarette or let the soul dangle a little while looking into the evening sky. This makes it all the better if you don't just have a simple outdoor area here, but rather an inviting beer garden. Here you have the possibility to sit on our chairs, either alone or in a group, and to move a small part of the celebration outside. Of course, we will also be pleased to serve you with our drinks and will make your celebration what it should be, a meeting of many people who value not only enjoyment, but also individuality and friendly cooperation.