Celebrate your birthday at the hotel!
Whether it's a birthday or an anniversary: such an event is always a reason to celebrate! However, organizing such an event at home usually does not only take time, but also patience and effort. After all, invitations have to be written, deadlines met and menu sequences have to be planned.
It is much simpler to be able to discuss your own wishes for the perfect celebration with us and to know that they will of course be realized on the day in question. This means that you not only enjoy a high degree of planning reliability, but also the flexibility you expect from a professional service provider. We believe that a birthday or anniversary is a special event that should be celebrated in the appropriate way.
Plan your day together with us!
Whether "round" or not, a birthday or an anniversary is always a reason to celebrate. So that you can enjoy it to the full, it is important that you do not make any compromises with regard to planning. At this point, we rely, among other things, on a high degree of transparency. Or to put it another way: in a detailed conversation, we ask many questions in order to find out what you attach particular importance to in the course of your birthday party.
You are also welcome to think a little in advance:
Whether your celebration should be under a certain motto
How many guests you want to invite to your party
Whether you have specific ideas with regard to decoration and co.
How your guests' entertainment should look like
Whether your guests will stay overnight in our house after the celebration.
As you can see: in the course of our planning we leave nothing to chance! We are happy to accept your individual wishes, so that the celebration of your birthday or anniversary becomes an event that everyone will remember with pleasure.
Individual decoration? Special menu requests? No problem!
Of course, we do not offer you "off-the-peg celebrations". Instead, it is important to us to consider all your wishes. This can be seen, among other things, in the fact that the decorations for a children's birthday should be different from those for a company anniversary.
Whether colourful and loud or dignified and simple: let us adapt our beautifully furnished rooms to your expectations and enjoy unforgettable hours together in a stylish ambience!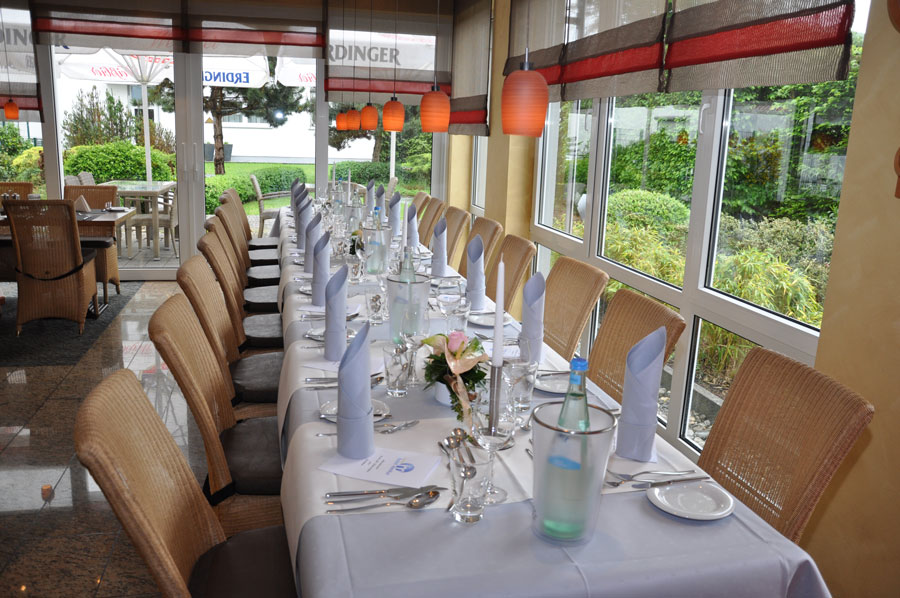 However, our individuality is also reflected in the possibilities offered by our restaurant. Our menu includes not only traditional dishes, but also a wide selection of exceptional dishes that can be combined to create exciting menus. Naturally, your young guests will also get their money's worth.
Simply discuss your ideas of the perfect dinner with us and let us create a culinary fireworks display that your guests will not forget for a long time!
Finish your celebration in our hotel bar!
Everyone knows it: the "hard core" of the guests of a birthday or an anniversary often remains sitting together until late in the evening in a cozy circle and talks about all sorts of things. The thought of having to end abruptly now can quickly cloud the positive mood. However, it is much more pleasant to finish the evening at our cosy hotel bar, isn't it? Here you can not only enjoy a drink or two, but also enjoy the entertainment in a particularly stylish and yet relaxed way.  During warm summer nights, it is also possible to take a walk in the region around the hotel. Among other things, two cosy terraces await you here.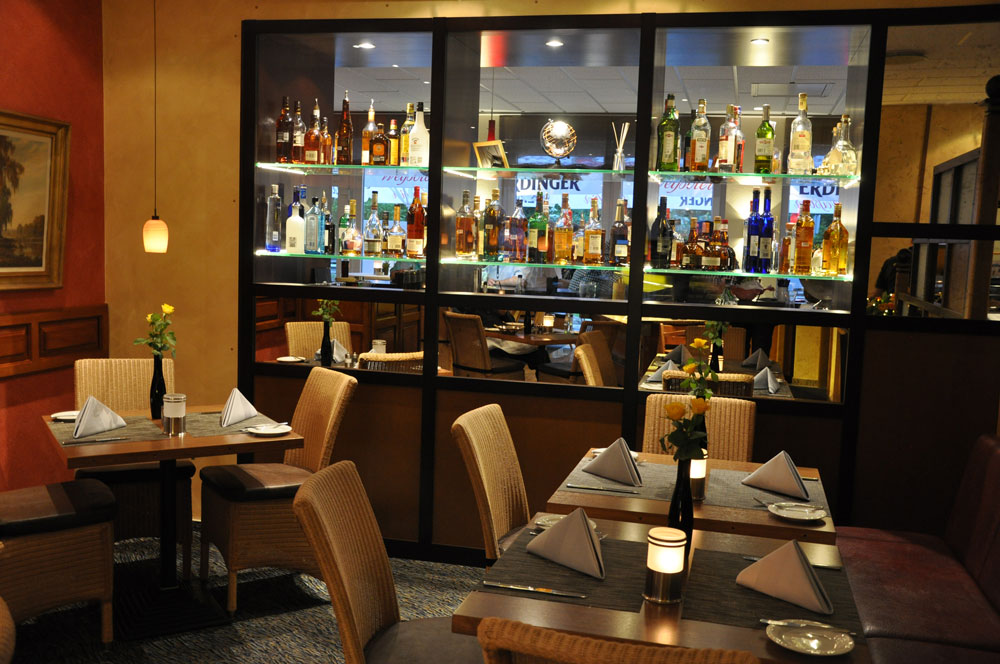 Celebrate and stay overnight – an ideal combination
Who says your guests have to leave home after celebrating your birthday or anniversary? Wouldn't it be nicer to sit together at the bar for a long time after dinner or the last drink and then fall into bed tired? This is exactly the luxury you can enjoy in our hotel!
Why not book one of our cosy single or double rooms for your guests and make sure that the evening can be enjoyed a little more relaxed and without having constantly time in mind!
The next morning the thought of an extensive breakfast buffet. You can't start the day more relaxing and stress-free!
Further offers of our house
Of course, your guests and you have the possibility to use all other services of our house in addition to the party and overnight stay. A visit to our fitness area is especially popular with young and old alike. Whether strength or endurance: here you can prepare yourself for the upcoming celebration or let the day come to an end with full power.
With a birthday party at Hotel Merkur you will set new standards, have the chance to celebrate unconventional or classic celebrations and to welcome a new phase in your life. Turn special days into special experiences… without compromise, but with maximum professionalism and excellent service.
We look forward to seeing you!