The Hotel Merkur – Your conference hotel near Kaiserslautern
Whether small or large companies: Many companies today rely on conferences when it comes to planning projects or strengthening team spirit. An attractive environment is the be-all and end-all. After all, the main focus is on stimulating the inventiveness of the employees and, if necessary, treading new paths through a "change of scenery".
Regardless of whether you would like to brainstorm together with your colleagues on our beautiful terrace, have a discussion in our conference room or end the day with a dinner in our restaurant: Hotel Merkur is the ideal partner for all company sizes and industries.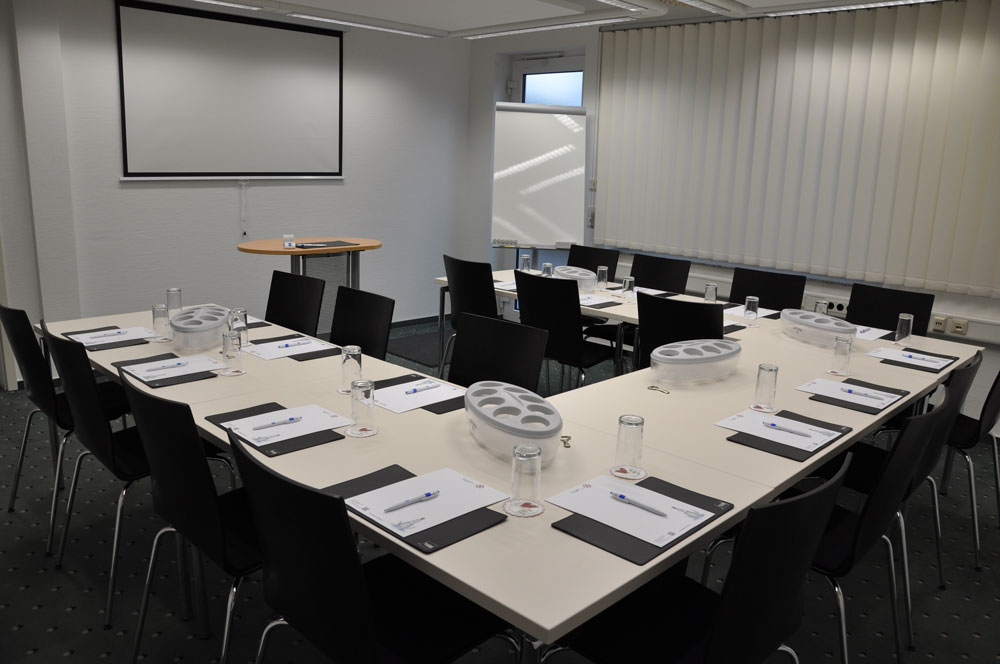 What are the advantages of the conference at Hotel Merkur?
A direct comparison between a meeting in the company's own premises and a conference lasting several days reveals that working in the latter case can be incredibly effective and versatile.
Of course, it is also extremely important in this context to be able to rely on a suitable environment in the form of a modern hotel. But what does this actually mean? What are the advantages of a conference at Hotel Merkur?
As in the context of other bookings, for example from the private sector, we also rely on an ideal mix of service and modern premises in the course of our business travel customers. First of all, let us mention our conference room. It has a pleasant size of 26 m² and can accommodate a maximum of 18 to 20 people. A wide window front provides an optimal working atmosphere. If required, however, the room can also be darkened. This is another advantage that comes into play especially in the summer months: Of course, you also have the option to air-condition the conference room comfortably.
But also with regard to the available technology in the room, no wishes remain unfulfilled. You will find here among other things:
a projector
a canvas
Flipchart and whiteboard (including pens and paper)
a lectern
a presentation case
free W-LAN internet connection at your disposal. If required, you can also use the fax / scan / copy service at the reception desk.
In short: in the course of your conference, you will not only have the opportunity to use our spacious rooms, but you will also have access to our high-quality conference room equipment.
Not only work, but also enjoy leisure time
We know that even in the course of conferences, employees are not expected to work around the clock. This is why we offer you not only the perfect prerequisite for developing projects and business talks, but also for relaxation away from the daily routine.
No matter whether you want to train in the evening in our fitness area or drink a toast to a successful day at the hotel bar: Hotel Merkur is the right place for you.
Our offer is characterized by an excellent service concept and a high degree of flexibility. The latter is of course also evident with regard to our gastronomic offer. We would be happy to work with you to develop a menu that not only suits your company, but also to a possibly prescribed budget. Let our experienced staff advise you on prices, booking options and all-inclusive packages and make sure that your employees can start the different project days even more motivated.
A perfect environment for best results
Realistically, more employees are probably looking forward to an upcoming family holiday than to a business trip. However, we are of the opinion that a conference or a project week can become an unforgettable experience for all those involved if the conditions are right.
Particularly important here is the interplay between cosy rooms, which invite you to linger and an outdoor area, which is particularly suitable in summer to let your thoughts wander during the breaks between seminars. Due to the positive effects of a suitable environment on the human psyche alone, more and more department heads are deciding to offer their employees "something special" in the course of conferences. In other words: Yes, it is possible to emphasise the luxury of a hotel and its services while at the same time working efficiently. The employee gets the feeling of being valued in our premises, whether in the conference room or in the restaurant. And this is exactly what motivates many people to work a little more intensively and to think outside the box. Such a "change of scenery" has already helped many companies to develop new ideas and let the team grow together even more as a group. Focus on the topics that are important to you and give us the opportunity to provide a suitable setting!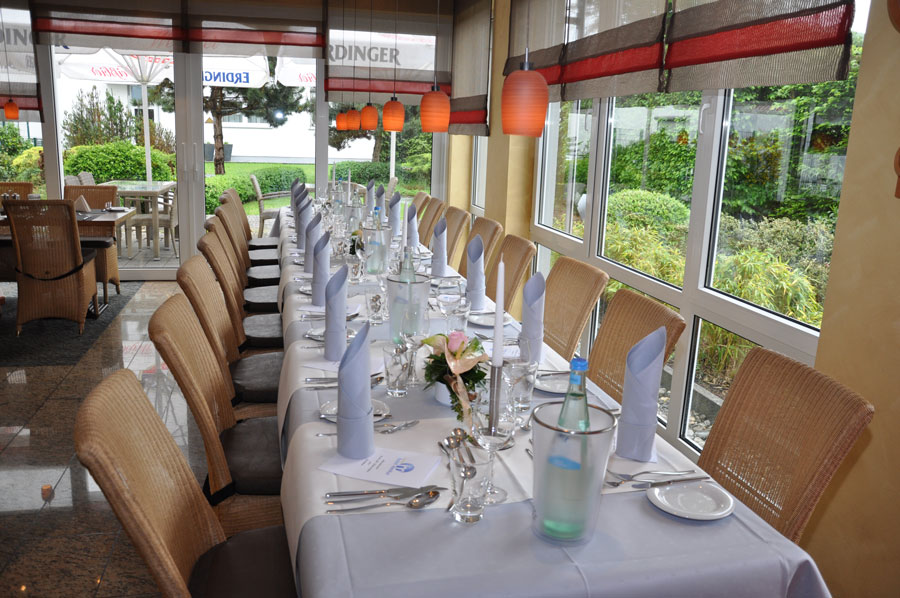 Conferences with corporate identity
Today, every company has certain characteristics that help it to stand out from the competition. Why should it therefore not be possible to integrate certain colours into the table decoration or even a logo? Here it is true that those who manage to incorporate discreetly yet always present different patterns of recognition in the day-to-day meeting create a special effect.
Please do not hesitate to contact us, so that we can discuss individual wishes with you!