A dream for all athletes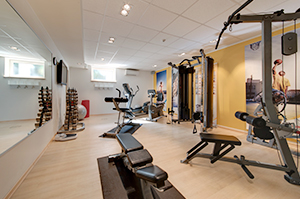 For all who would like to stay fit and keep true to their fitness routine while being here on a business trip or even a vacation and for all who would like to bring their work-out to a higher level.
We have set up our modern and top of the line equipped fitness room so that Merkur guests are able to perform their usual work-out while being away from home.
Our fitness room is equipped with modern exercise machines by the company "life fitness" for cardio and weightlifting exercises:
1 elliptical trainer
1 recumbent bicycle
1 complete full body adjustable pull weight machine
1 weightlifting station with adjustable weights for work outs like: leg press / lat pulldown / low row or shoulder / incline / chest press
2 weight benches: a flat bench and adjustable bench
1 dumbbell rack
exercise balls and workout mats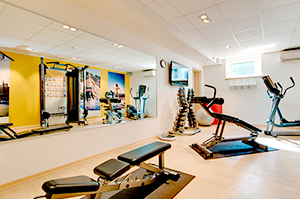 Of course, we have included a water dispenser and a towel station as well.
The Merkur fitness room is fully air conditioned.
Accessible via your guest room key, Hotel Merkur guests have access to the fitness room from 06:00 am to 11:00 pm. Access is free of charge.