The Hotel Merkur is also making its contribution to sustainability and climate protection!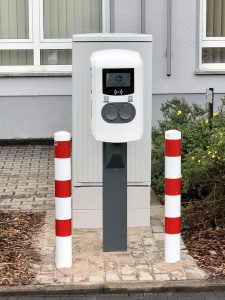 E-Mobility
Electric-cars have long been part of everyday life!
On the road, on holiday or on a business trip, it is unfortunately still difficult to find accommodation with charging facilities for your e-car.
Directly at the hotel you will now find an e-charging station with two charging ports.
With this offer we want to increase the satisfaction of our guests and above all take responsibility for the environment.
All electric car drivers are welcome!
While you charge the batteries of your electric car, we will spoil you with gourmet specialities of regional and international cuisine, a warm hospitality and comfortable feel-
good rooms and suites.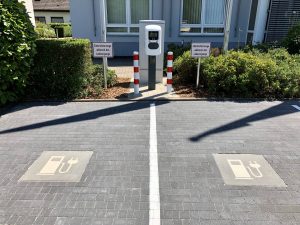 Continue your journey refreshed and rested.
Our Hotel Merkur with ist new charging station for your electric car – practical, comfortable and eco-friendly!
22 kW e-charging station
2 charging ports
directly at the hotel
for all common e-cars
also for your Tesla
VIRTA System
remote access via QR Code
Clean electricity with our photovoltaic system
Solar cells as our reliable supporters!
The climate, environmental protection and sustainability have long since become a topic of public discussion.
Rethinking starts on a small scale: with oneself.
That's why we, the Hotel Merkur, would like to invite you to join us in saving CO2 – on business trips, on vacation and in everyday life.
One step towards sustainability for us was the installation and use of a Photovoltaic system, "made in Germany", with which we cover a large part of our electricity consumption, namely 30000 kWh.
The sun in beautiful Rhineland-Palatinate is not enough to generate electricity? Oh yes! During the day, photovoltaics produces clean energy itself, no matter whether the sky is cloudy or clear, whether it's raining or foggy. Conventional fossil fuels are becoming increasingly scarce – for this reason it is important to think about supplementing these resources with renewable energy in the long term.
With the help of solar energy, we can generate a significant amount of electricity and heat – we now save up to 20 tons of CO2 every year.
From a technical point of view, photovoltaics has the greatest potential for generating electricity from renewable energy sources, not only in Europe but also worldwide. After installation, the systems themselves are odourless and noiseless, require little maintenance and offer a high degree of reliability.
Because only together can we manage to change things in the long term.
The Hotel Merkur would like to actively participate in this process itself. Together with you.